IN OBSERVANCE OF THANKSGIVING
We will have reduced hours of 8:00 am – 11:30 am on Wednesday, Nov. 27, 2019.
We will be CLOSED on Thursday Nov. 28th &  Friday Nov. 29th
Returning to our regular schedule on Monday, Dec. 2, 2019.
Featured Product of the Month
F-26   ABRASIVE BELT GREASE STICK
This is the "original" and ever popular F-26 coated abrasive grease stick that is in universal use. The regular type polishing wheel grease sticks are purposely made of high melting point greases, but abrasive belts run so cool that these types of greases have a tendency to form a "gummy" surface referred to as "loading" or "glazing". The use of F-26 on belts and discs prevents this. It is a light bodied grease – that spreads out thinly, remains "wet" on the belt    and provides lubrication by penetrating the coated abrasive surface. F-26 prevents clogging and leaves the abrasive grit free to cut clean and smooth. F-26 is recommended for all belt-polishing operations – on all metals, plastics and glass.
Download Our Product Catalogs:
When Perfection Counts – Turn To The Experts!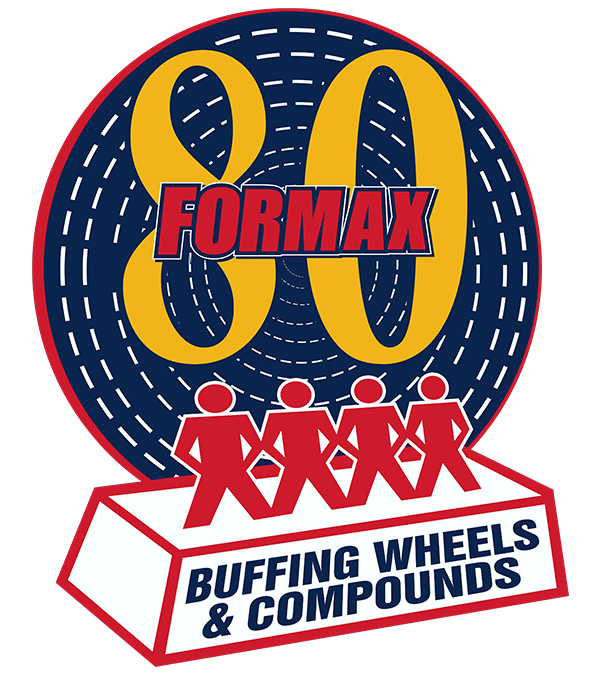 Celebrating 80 Years of Manufacturing Excellence!
Since 1938, Formax has been a leader in manufacturing superior-grade Buffing Compounds and Buffing Wheels for the finishing industry. Over the decades, we have developed many grades and styles of Buffing Compounds, Buffing Wheels and Polishing Accessories that have become standards in the finishing industry.
I believe the Formax Mfg. Micro Fine Green Honing compound is the best to use on a hand held leather strop. The compound works brilliantly. It's easy to apply, lasts forever and produces exceptional results even for buyers who have never used before. Good stuff! Kind regards, Graeme -   Razorsharpshop and Aussie Strops
Graeme Barber
Thank you Formax for caring even for the smallest customer in such a great way.  I assure you I will never look anywhere else for my compounds and really appreciate all of you, front office to production to shipping. From day one you have taken time for and great care of us.   Sincerely, Robert B.
Robert B.